Using Developmentally Appropriate Practice with Early Learners to Evaluate Apps
A TEC Track Webinar by Gail Lovely
Materials and Information related to the Webinar on 10/16/2013 are included below.

Please contact me directly if you have any questions or if you would like me to work with you and your staff on using technologies in appropriate and powerful ways.
Gail

Apps in the Powerpoint:
Fotopedia Heritage – free
(other free titles: Paris, France, Italy, Japan, China, National Parks, Wild Friends, Morocco, North Korea)
Sago Mini Sound Box - $.99
Xylophone for Interactive Alphabet – free
Uncolor for iPad - $.99
Sago Mini Doodlecast - $2.99
Peg + Cat Big Gig - $1.99
LetterSchool - $2.99
Write My Name - $3.99
Collins Big Cat: It Was a Cold, Dark Night Story Creator – free
Futaba Classroom Games - $6.99
Jellybean Count – free
Explain Everything - $2.99 (iOS and Android)
(Less than $25 if you were to buy ALL the apps included in the PowerPoint, but you shouldn't need them all!)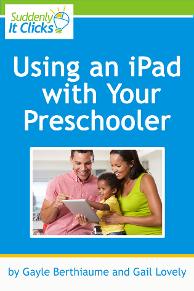 Want more information about my forthcoming book?
Visit SuddenlyitClicks.com
and join our mailing list so you will be the first to know when it is published!