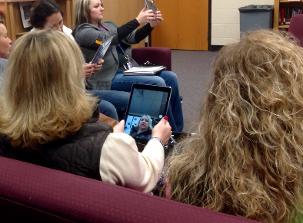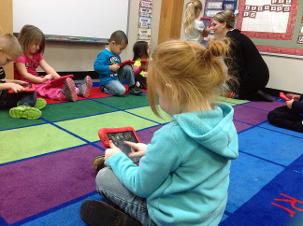 Philosophy
I believe that creating lifelong learners comes from being a lifelong learner.

I believe that continuing to learn, grow, question, experiment, think, ponder, wonder, and take risks is a critical part of being an excellent teacher.

I believe that adult learning IS different from child learning, but should also be fun, engaging, motivating, and purposeful.

I believe that educators learn best when the content, methodology and tools reflect the proposed, intended or desired outcomes.

I believe that learning is messy, non-linear and exciting.
Embedded Professional Development
All effective professional development is, at its core, customized and specific to the goals of the group and the needs of the participants. It may be delivered from a distance, in an off-site setting, in a technology-rich environment, or in the very work environment of the participants.
Embedded Professional Development is the most powerful method of professional development I have ever facilitated. Embedded Professional Development takes place in the classrooms, libraries or media labs of the participants. There is no "workshop", it is on-the-job learning. As teachers work with students, the Professional Developer offers suggestions, models strategies with students, and team-teaches with an attention to technologies, management and outcomes. Sometimes there are opportunities to label behaviors and explain strategies as they are used, other times a brief discussion follows the experience. This method of professional development has yielded incredible results, in part because teachers can see it working in their own classrooms with their own technologies and their own students.
Other Professional Development
Workshops and seminars can offer opportunities to move educators forward with the technical or pedagogical behaviors, strategies, techniques and methods needed. These are best when they are focused and have clear goals and purposes, especially if the participants have helped to create these goals and purposes.
Presentations and demonstrations can motivate, pique interest, highlight needs or inspire action. Short presentations or demonstrations can also provide specific content. I find these most useful if timely and integrated into a larger plan of action.
Webinars and Learning from a Distance can also be effective tools. The biggest challenge of these modes of professional development is the difficulty in providing the kind of personalized and specific examples, techniques, content, and methodologies when the facilitator is distanced from the location, environment and experiences of the learners. One model which is helping to bridge some of this is providing a more practical and interactive model of webinar. In this model, which I instituted in a webinar series I hosted for ISTE, the webinar is focused on a specific tool or task and the content flow moves from lower-level content - what the tool is and how it works - to higher level uses, and leverages quiet, supported time for learners to try the tool and work toward application of the tool and/or methodology, all within one webinar session. Ongoing support and discussion is provided via wiki and other asynchronous methods.
Recent Topics
All professional development I provide is customized for the learners and their goals. Here is a short list of some recent professional development topics I have facilitated:
Beyond the Screen - Augmented Learning
Everyone has a Story to Tell - Using Technology to Amplify Student Voices

Technologies and Young Learners - Things to Consider
The One Tablet Classroom
Using iPads in Powerful Ways

Apps for Administrators - Productivity and Insight

Beyond Angry Birds - Apps for Learning
Selecting Apps for Student Use... Looking Beyond the Price
Welcome to Your iPad
The Future is Here, NOW
Web 2.0 Tools, Not Toys
From NOW to WOW! Use what you have to make a bigger difference
Digital Images for Student Engagement

Technology for Your Youngest Learners
Books aren't Dead, Using Technology to Enrich and Enliven Your Literacy Program
How Do Your Elementary Students Show What They Know?
Mania or Managed Chaos, Managing the Technological World of Young Learners

Bring a Book, Make an Experience
Making IT Interactive
Beginning ePortfolios - What?, Why? and How?
Collaboration - Use Technologies to Personalize and Empower
Math, Manipulatives, and Technology - A Powerful Trio
Using Technology to Support and Encourage Beginning Readers
Playful Learning, What the Web Can Bring to You and Your Class
Google Does More than Search for Stuff (Google Docs and More)

Hidden Gems - Things You Can Do with Office To Help You Teach and Your Students Learn
Two Standards with One Stone - Curriculum-Rich AND Technology-Rich Teaching and Learning
Most professional development I provide includes a website for the learners to use beyond the specific time of the professional development.